---
To the rythme of tides
---
Surf classes take place when the tide is low for two main reasons :
Because one is within his depth (safety)
-Because the waves offer the greatest ride in the white water
The surf agenda is organised around the tides.
The timing of tides goes 50 minutes forward every day (ie : low tide at 9am on Monday will become lowtide at 9h50 on Tuesday).
The surf class losts 1h30
It is preferable to arrive 15 minutes early at the meeting point (life guard house - Miramar beach – Biarritz Surf Ocean)
---
---
Session Plan
Understand the sea and the daily possibilities
Be able to warm up (flexibility, tonicity, mental)
Surfing method and equipment
Individual objective, evaluation and projection
Stretching, advice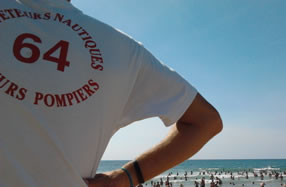 ---
Safety and insurance
An aid station is locaded (life guards) is located right next to the surf school area. The life guards secure the swimming area between the blue flags.
In case the ocean is too strong, the classes will be moved to another beach.
The Biarritz Surf Ocean surf school owns a professional liability insurance (UNSA Pro)